One who has HOPE lives differently.
Poverty Services encourages a combined effort of local agencies and organizations to help those who want to help themselves address the root causes of their cycle of poverty or imprisonment... and thereby become gainfully employed and change their lives forever.


---
"We believe that an effective way to attack poverty is through programs that are small in scale, locally based, and orientated toward empowering the poor to become self-sufficient."
- #200-Economic Justice for All-NCCB

"If you think you're too small to be effective, you've never been in bed with a mosquito."
- Anita Roddick

"Poor people must be empowered to take charge of their own futures and become responsible for their own economic advancement. Personal motivation and initiative, combined with social reform, are necessary elements to assist individuals in escaping poverty."
- #201-Economic Justice for All-NCCB



P.O. Box 388, Breese, IL 62230 P: (618) 920-8448
Powered by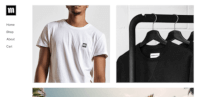 Create your own unique website with customizable templates.